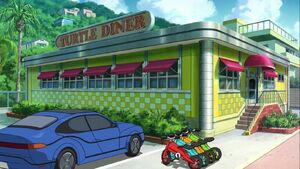 Turtle Diner (Japanese: カメ の ダイナー, Kame no Dainā, Korean: 거북이 식당, Geobug-i Sigdang) is a food diner that is owned by the Dalton family, located in Benham City. It is next to their house. Mrs. Dalton is the owner and a waitress, Mr. Dalton is the chef, and Wakamei is a waitress. Toxsa is the only one who doesn't work there, since he does not have a job because of his age, as he is not 16+. Turtle Diner is one of the main places where the boys hang out. It makes its first appearance in "The Power of Four".
Appearance
Outside the diner
Inside the diner
Trivia
The Diner's name is only revealed in English version. In the Japanese version the name is not there.
Gallery
Internal Links
Community content is available under
CC-BY-SA
unless otherwise noted.