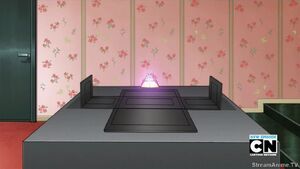 The Tenkai Stone (Japanese: 天界の石, Tenkai no Ishi, Korean: 텐카이 스톤, Tenkai Seuton) is a rare device that can be used on Quarton to find the location of the Tenkai Fortress. When its there, it will become larger and will glow as a sign of knowing that the Fortress is near. This device was found in Beni's apartment room, where it was left there by her father for her to have and use.
Appearance
On Earth
On Quarton
In the Series
The Tenkai Stone was first seen in "Beware Betrayal", where Beni found it in her apartment. She, as Venetta, tried using it on Quarton. However, she originally thought it wasn't working, so she kicked it, which created a cube rainbow. She then believed the stone might have worked. Later she informed Vilius that she may have found the location of the Fortress.
Gallery
Internal Links
Community content is available under
CC-BY-SA
unless otherwise noted.