REDIRECT Template:Infobox/CorekaiTavox (Japanese: スペクトロス・グリーンウォーリアー, Supekutorosu Gurīn Wōriā, Spectros Green Warrior, Korean: 그린워리어, Geurin Worieo, Hebrew: טאבוקס) is a gray and green Corekai soldier.
Appearance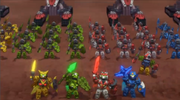 Personality
Powers and Abilities
Trivia
In the Series
A group of Tavox can first be seen in "The Rising Fire", where a bunch of them are being attacked by a Gearnox, but was quickly destroyed by Valorn.
Relationships
Beag
The Tenkai Knights
Gallery
Links
Community content is available under
CC-BY-SA
unless otherwise noted.