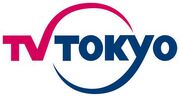 TV Tokyo
(Japanese:
テレビ東京
,
Terebi Tōkyō
), also known as
Teleto
(Japanese:
テレ東
,
Teretō
), is a Japanese broadcast network which dedicates itself very much to the anime market. It was founded in 1964 and since then has broadcasted more notable anime than every other Japanese broadcaster. It has several affilates such as TV Hokkaido, TV Aichi and TV Osaka. Every station is owned by the TX Network and except some difference, they almost have the same schedule.
Anime involvements
Almost every notable anime had its world premiere on TV Tokyo. Listed are anime which also had international success.
Bakusou Kyodai Let's & Go (1996)
Pokemon (1997)
Transformers (since 1997 before other networks)
Yu-Gi-Oh (2000) not Season 0 (1998)
Beyblade (2001)
Duel Masters (2002)
B-Daman (2004)
Bakugan (2007)
Scan2Go (2010) (not broadcasted yet)
Cardfight Vanguard (2011)
Monsuno (2012)
Beast Saga (2013)
Future Card Buddyfight (2014)
Tenkai Knights (2014)
Involvement in Tenkai Knights
In December 2013, it became known that Tenkai Knights will air in Japan in the Spring of the following year. In late February 2014, TV Tokyo was announced to broadcast Tenkai Knights every Saturday at 9 AM. Nothing is known about the ratings of Tenkai Knights yet, although they are also an important factor for a second season.
External Links
Internal Links
Community content is available under
CC-BY-SA
unless otherwise noted.