REDIRECT Template:Infobox/CorekaiSenjo (Japanese: スペクトロス・イエローウォーリアー, Supekutorosu Lerō Wōriā, Spectros Yellow Warrior, Korean: 옐로워리어, Yello Worieo, Hebrew: סנג'ו) is a gray and yellow Tenkai Trooper in the Corekai army.
Appearance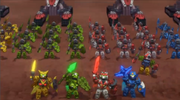 Personality
Trivia
Powers and Abilities
In the Series
A few Senjo can be be first seen in "The Power of Four", where they were running away from a group of Gilltax to not be hit.
Relationships
Gallery
Links
Community content is available under
CC-BY-SA
unless otherwise noted.