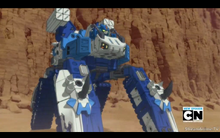 The Ice Walker (Japanese: フリージングタンク, Furijingu Tanku, Eng. Translated: Freezing Tank) is a blue and white ground vehicle. It's used by the Corekai army.
Appearance
It looks like a giant robot, and has 4 legs and special features to allow it to walk in harsh, snowy conditions. It's an elemental attack of Tributon.
Abilities
Ice Cannons
It is able to walk as well. (Legs and front hands)
Trivia
As revealed in "Fortress Revealed", the Ice Walker is the elemental form of the BlasTank.
The type of element for the ice walker is Ice, This was made by Tributon Tenkai Iceblast elemental attack.
In the Series
It appeared in "Fortress Revealed" where Tributon shapeshifted a BlasTank in to it and combined his elemental powers with it to defeat Slyger and his Fire Raptor.
Gallery
Internal Links