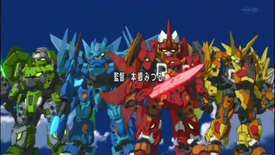 Elemental Titan Mode (Japanese: Σモード, or シグマモード,  Σ Mōdo, or Shiguma Mōdo, Eng. Translated: Sigma Mode) is a combination of Titan Mode and Elemental Mode. This form was unlocked by Bravenwolf in "Dojo Mojo". He used it to defeat Guardian Boreas' Mega Fusion. It was then unlocked by Valorn in "Toxic Toxsa" to defeat Guardian Zephyrus's Mega Fusion. Then it was unlocked by Lydendor in "Fight Knight" to defeat Guardian Notus's Mega Fusion. Finally, it was unlocked by Tributon in "Beware Betrayal" to save Bravenwolf from being defeated by Venetta. This mode can only be activated by Bravenwolf Tenkai Firestorm, Tributon Tenkai Iceblast, Valorn Tenkai Terrablast, Lydendor Tenkai Lightningstrike, Dromus Tenkai Whirlwind, and Vilius Tenkai Dark Tempest.
Appearance
This mode is activated by the Knight changing into his bigger core brick, surrounded by his respective element. He then receives the normal attachments of Titan Mode, except in the respective new colors. They also get bigger wings and helmets. Their weapon grows bigger and can sometimes be shown surrounded by their element.
Abilities
This mode gives them a combination of their Titan Mode powers, including enhanced abilities, and Elemental Mode powers, including Elemental Attacks. This mode also grants the user full flight. The Tenkai Knights and Dromus have the ability to release their White Dragon Cubes to form the Light Tenkai Dragon, reverting them to their original form. Not only can Vilius release his Black Dragon Cube, but he can also summon the other four from the Guardians to form the Dark Tenkai Dragon.
Bravenwolf Tenkai Firestorm Titan Mode
Bravenwolf's elemental titan attack is called Tenkai Titan Firesword (Japanese: バーニング・ギガント・ソード, Bāningu Giganto Sōdo, Eng. Translated: Burning Gigant Sword).
Tributon Tenkai Iceblast Titan Mode
Tributon's elemental titan attack is called Tenkai Titan Iceblast (Japanese: ブリザード・スパイラル・アロー, Burizādo Supairaru Arō, Eng. Translated: Blizzard Spiral Arrow).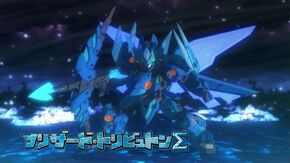 Valorn Tenkai Terrablast Titan Mode
Valorn's elemental titan attack is called Tenkai Titan Terrablast (Japanese: ガイア・メガリス・クラッシュ, Gaia Megarisu Kurasshu, Eng. Translated: Gaia Megalith Crash).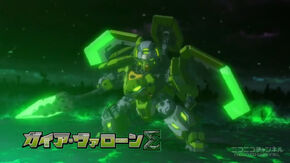 Lydendor Tenkai Lightningstrike Titan Mode
Lydendor's elemental titan attack is called Tenkai Titan Lightningstrike (Japanese: サンダー・ファイナル・アタック, Sandā Fainaru Atakku, Eng. Translated: Thunder Final Attack).
Dromus Tenkai Whirlwind Titan Mode
Dromus' elemental titan attack is called Tenkai Titan Whirlwind (Japanese: 疾風黒狼波, Shippū Kokuro-Ha, Eng. Translated: Gale Black Wolf Wave).
Vilius Tenkai Dark Tempest Titan Mode
Vilius' elemental titan attack is called Tenkai Titan Dark Tempest (Japanese: ネオダークネスボルト, Neo Dākunesu Boruto, Eng. Translated: Neo Darkness Volt).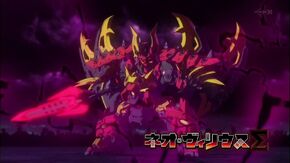 Trivia
When this mode is unlocked by the Tenkai Knights, each knight is surrounded by an aura.
After each knight unlocks this mode, they can use it any time they like.
The english dub added phrases for the Tenkai Knights after the transformation: Yeah, I'm on FIRE! (Bravenwolf). Alright! Time to plug'n play! (Valorn). Yeeaah, Game on! (Lydendor). Oh yeah, so cool! (Tributon). Watch out! There's a storm coming! (Dromus). All being a reference to their element or their favorite hobbies.
Tributon was the only knight who didn't unlock Elemental Titan mode by fighting a Guardian. Instead, he unlocked Elemental Titan Mode by fighting Venetta.
Dromus was the only knight to unlock Elemental Titan Mode by trying to fight two Guardians.
The Elemental Titan Mode is bigger and powerful than Titan mode.
Dromus was the last knight to achieve this mode.
Gallery
Internal Links