Tags: Source edit, Mobile web edit, Mobile edit

 

Line 1:
Line 1:
−

{{Template:Infobox tenkaiknight

+

{{Template:Infobox

 

|name = Dromus Tenkai Whirlwind

 

|name = Dromus Tenkai Whirlwind

 

|image = File:Dromus EM.png|250px

 

|image = File:Dromus EM.png|250px
---
Latest revision as of 08:28, 10 May 2022
Dromus Tenkai Whirlwind (Japanese: 疾風黒騎士, Shippu no Kurokishi, Eng. Translated: Gale Black Knight, Korean:질풍 흑기사, Jilpung Heukgisa) is a main character in Tenkai Knights. He formerly was an evil Tenkai Knight, owned by Gen. He is a doppleganger of Bravenwolf Tenkai Firestorm. Like Bravenwolf, he too describes himself as the Tenkai Knight of Power, but unlike Bravenwolf, he does not have elemental fire powers, but elemental wind powers instead.
Appearance
Original Form
His appearance is very similar to Bravenwolf's, but instead of white and red armor, his armour is grey and black, and his eyes are red instead of green. Also, his "wolf" in his chest has a scar on the left eye, unlike Bravenwolf's.
Almost like Bravenwolf, except that his armor parts are grey and black and he has a scar on the left eye of his wolf plate, just like he does in regular form.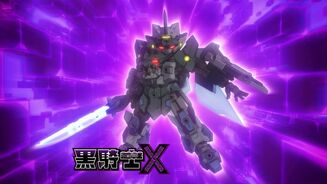 His Phoenix mode is basically like the other Knights, except his gray parts become gold and his eyes change from red to green.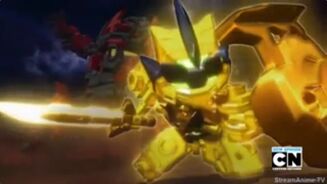 His elemental name is Dromus Tenkai Whirlwind. His first appearence in Elemental Mode was in "Red & Black".  He is like Bravenwolf Tenkai Firestorm, except his eyes are blue and no longer has a scar on his wolf chestplate. His wings are black and cerulean.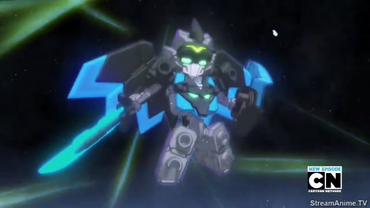 He unlocked it in the episode "A New Element." Basically like Bravenwolf's Elemental Titan Mode, except his eyes are blue and his wolf chestplate eyes are blue.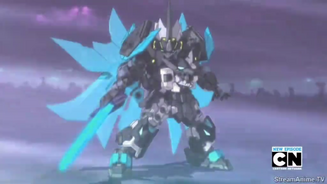 Personality
Both Dromus and Gen seem very shady. Dromus specifically is creepy, and Gen being the secret agent of Villius triggered Dromus to seem strange to the Knight's because of his secrets. Though once the regular Villius was destroyed, Gen revealed his secret identity and joined the knights as Dromus. Dromus is considered to be the evil counterpart of Bravenwolf. Dromus then slighty changed his personality in "A new knight" He also changed his personality more better in "A New element"
Trivia
He had pretended to be Vilius's servant until "The Dark Unlock", when he revealed that he only wanted power, and nothing else.
He decided to join the Corekai in "A New Knight".
He's the only Knight who hasn't used Robofusion or Titan Fusion.
He's also currently the only Knight who hasn't unlocked Elemental Titan Mode, since he hasn't been seen in a few episodes. But he unlocked it in "A New Element". He made a reappearance in "Feeling the Heat", but he was shown in his original form.
It is currently unknown how he unlocked Titan Mode.
Just like Bravenwolf, Dromus' chestplate represents a wolf.
Dromus' toy version of his Titan Core Brick is black where it's gray in the anime. In Brave Battle he can use Titan Fusion.
No information has been revealed if Phoenix Dromus will be released as a toy.
It is unknown if Dromus existed in the origins yet.
It may be possible that Dromus Tenkai Titan toy will be released in the USA.
The difference seened about Dromus was that when he was evil before he had red eyes, But when he joined the Knights in "A New Knight" His new mode Phoenix mode turned his eyes green which made him a good Knight. In "Red and Black" Dromus gained circlium greenish bluish eyes which made him a full new knight.
Basically Dromus and Bravenwolf are the same knights, Just with different colors and personalities.
Dromus is compared to Shadow the Hedgehog from the Sonic franchise, since they both are shadier and mysterious. They also used to have a rivalry like Bravenwolf to Dromus and Shadow to Sonic.
In the Brave Battle game Dromus can Titan Fuse.
Relationships
Dromus and Venetta have been companions until "A New Knight" where Dromus turned good. After then they were split apart until Venetta starts turning good with being in the jungle and all.
Powers and Abilities
Original Form
Proficient Swordsmanship
Tenkai Power
Whirlwind
Dromus Cannon
Limited flight
Enhanced Tenkai Power
Proficient Swordsmanship
Whirlwind
Limited flight
Proficient Swordsmanship
Tenkai Power
Tenkai Strength
Tenkai Speed
Flight
Tenkai Whirlwind - Allows him to summon a giant tornado on the tip of his sword after spinning 360 degrees and throw it at the target.
Aerokinesis
Proficient Swordsmanship
Tenkai Power
Tenkai Titan Whirlwind - Dromus shoots a giant whirlwind attack like Bravenwolf's fire sword. This attack also has the strength to hold up 2 guardians in Megafusion.
Aerokinesis
Proficient Swordsmanship
Enhanced Tenkai Power
Flight
Dromus Cannon
In the Series
Dromus first appeared at the end of "Two Worlds". He appeared again in "Tributon Extreme" and stole a Dragon Cube. His reappearance was in "Valley of Secrets". Dromus gets his elemental attack in "Red & Black" and then gets Elemental Titan Mode in "A New Element". Some times in " A New Element " Dromus will sometimes have aqua green eyes and sometime he will have blue eyes. Inludintg his scar on his wolf chesplate.
Gallery
Links