Beag (Japanese: ビーグ, Bīgu, Korean: 비그, Bigeu) is a supporting character in Tenkai Knights. He is also the current commander of the Corekai.
He is voiced by Kyle Hebert in English and by Chafurin in Japanese.
Appearance
Basic Form
Earth Form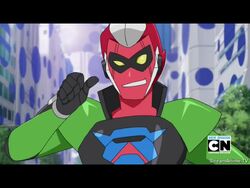 Personality
Has a stereotypical medieval Knight accent. Always optimistic, always there to support the Knights, even when they act foolish.
Beag is often confused by the earthly references the young Tenkai Knights make due to him not knowing they aren't the original Tenkai Knights. He seems to have a case of hero worship, but is very intelligent.
In the Series
In "Valley of Secrets", Beag and two of his men once joined the Tenkai Knights in Robofusion, granting them the ability to use both the Protojet and the Air Lancer Jet at the same time.
Beag was later attacked while investigating the attack by the mysterious new Tenkai Knight, Venetta. He survived the encounter but was unable to help the Tenkai Knights defeat her.
Later, Beag tried to cheer up a depressed Tributon by singing a song that was dedicated to the brave Knight, even though he didn't like it.
AbilitiesRelationships
Powers and Abilities
Gallery
Trivia
Beag's armor incorporates the colors of all of the Tenkai Knights, whereas the rest of the Corekai only share their armor color with one.

Beag's helmet is Leinad, his chestplate is Kutor's, his arms are Tavox's, his legs are Senjo's, he uses Tavox's and Senjo's spear, and Leinad's and Kutor's shield.

Beag starts all of his training sessions with the official salute of the Corekai.
Apparently, Beag knows that the Knights live on the other world. It's possible he learned of this in "A New Knight".
Beag is an expert Volt Jet flyer.
Beag seems to be able to survive strong Energy attacks other Corekai soldiers are destroyed by.
Beag is the only Corekai member with a rainbow color scheme, he can't get confused with any other Corekai and so it can represent him as commander of the Corekai.
Links